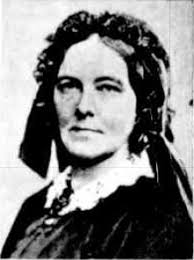 Early settlers' stories a fascinating insight into WA's past
We've delved into the history books to learn a bit more about Anne (Annie) Frances Isabella Brockman (nee Hamersley), the namesake of Annie's Landing at Ellenbrook. Her family's story is a fascinating insight to life in WA during the 1800s!
Annie was born in 1809 in England and was the second child of Hugh and Margaret Hamersley.
Annie grew up in Sandgate, Kent and was christened in the Cheriton Church by Rev Julius Drake-Brockman.
The Hamersley and Brockman children grew up as good friends and when Annie was 19 she met William Locke Brockman (Rev Julius's seventh child) and eloped to Gretna Green in 1827. Their elopement caused a bit of a scandal, but their parents gave their blessing to the union and there were formally married on 22 March 1828.
It was not long after their marriage that the settlement of the Swan River colony was planned and William and Annie decided to migrate.  After selling William's farm, they set sail on the "Minstrell" with their baby son, seven servants, a prefabricated house, livestock and seeds for crops, vegetable and fruits. 
They arrived at Fremantle on 20 January 1830, making them amongst the earliest pioneers of Western Australia.
It is thought that William became just the ninth person to be granted land in the Swan River Colony. He was entitled to over 20,000 acres of land grants and named his first grant 'Herne Hill'. He went on to construct one of the first horse-mills in the area, helping to alleviate the colony's reliance on imported flour.
William carried out several explorations for fertile land with good water and in 1830, with Ensign Dale, discovered the beautiful Avon Valley - from which Annie's Landing takes it's design queues today.
William was a gentleman and true pioneer and has been referred to as the "Father of the Swan".  Together, Annie and William had nine children, with all but the first being born in Western Australia. Annie was well known as a gracious lady who endeared herself to all who knew her. 
Both William and Annie always helped others in need ... a perfect namesake for our own village of Annie's Landing, here in Ellenbrook.
*With enormous gratitude and thanks to local resident and descendent of Annie, Anne-Marie Cox, for her insightful information in helping create this blog post. 
There is lots to love about the history of a place like Ellenbrook. To find out more about Ellenbrook click here.