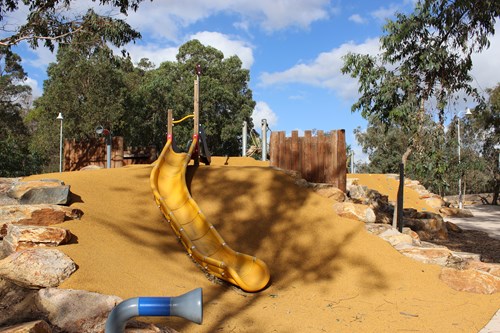 Annie's Landing Playground a hit with local families
Perth families in the know have already discovered the amazing Annie's Landing Playground, coming from far and wide to enjoy it. 
However, for local residents in Ellenbrook the park is just a short stroll or drive away. 
All ages
Catering for older and younger children alike, Annie's Landing Playground uses 'play pockets' to separate varying types of interesting play for different age groups so the little ones have their own special space to enjoy away from the big kids. The play areas are connected by a series of meandering paths.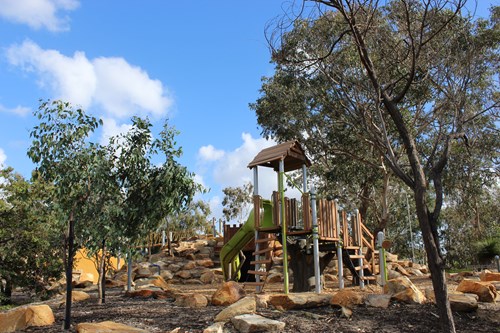 A natural place to play
Within a beautiful bushland setting, the playground includes natural, traditional and adventurous play for endless unstructured fun.  Log balancing and paddling in the water of the playground's running stream have timeless appeal for all ages.  
Older kids will particularly enjoy the heart-in-the mouth, double cable flying fox zip line, the spider net climbing structure and the giant birds nest swing. Younger ones will enjoy imaginative play in the wooden fort.
Other activities to enjoy include rock climbing or scrambling up to the high rope bridge and taking the big yellow slide back down on the other side.
Another fabulous slide, modelled on a tree design, has steps, ladders and the tree trunk to get to the top.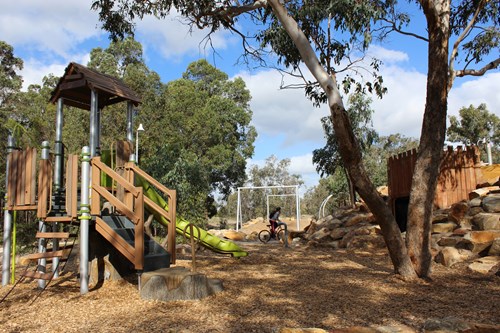 For the littlies
The dedicated toddler area has a great spinning seat/roundabout and bucket swings, sand play, outdoor musical instruments and an interactive climbing structure with a slide and tunnel.
Stay a while
Annie's Playground includes a picnic shelter, toilets and a large grassed area so fire up one of the BBQ's or pack a picnic and plan to enjoy a few hours of family fun.
You can find the park at 180 Banrock Drive.