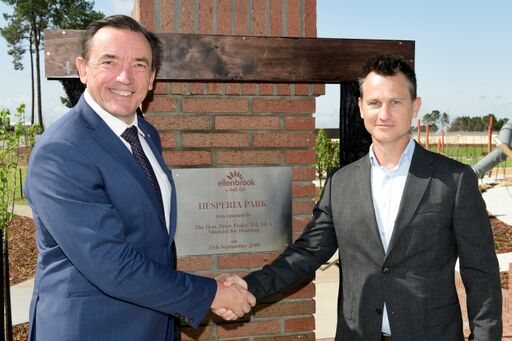 ELLENBROOK LAUNCHES LARGEST SINGLE STAGE IN FIVE YEARS ON THE BACK OF STATE GOVERNMENT'S INFRASTRUCTURE PROGRAM
New Home Display Village to kick start the new Hesperia precinct in Ellenbrook Town Centre
First traditional sized lots launched in Ellenbrook Town Centre
Close to recently opened Tonkin Highway extension and the planned Metronet Station
The Hon Peter Tinley AM, MLA - Minister for Housing, officially launched the Hesperia Precinct in Ellenbrook's Town Centre on Wednesday 25th September
Leveraging off the Government's infrastructure program, Ellenbrook is undertaking its most expansive development programme since the commencement of the current downturn in 2014.
Stage 1 of the new precinct, off Goodwood Crescent in Ellenbrook's Town Centre, features 60 lots suitable for a range of home types from terrace homes to large family homes.
The large family lots are the first of their kind for the Town Centre and the release is the largest single stage released in Ellenbrook in over 5 years.
The precinct is located just 2 minutes from the new Tonkin Highway exit, as well as being a short walk to the shops at Ellenbrook Central, cafes, coffee shops, gyms and also the future Metronet Station.
This release coincides with the opening of a multi-generational park, the centrepiece of the precinct. The $1.3m Hesperia Park provides for active and passive recreation including play equipment, exercise equipment, a kick-about zone and quiet shaded places for reflection.
A new display village with 18 homes has also opened within the precinct.
Executive Chairman of LWP Group, Mr Danny Murphy, said the release reflected an exciting time in Ellenbrook.
"With the support of Western Australia's leading home builders, the Ellenbrook Joint Venture is determined to play a leadership role in stimulating building activity in Perth after five years of extremely challenging conditions," he said.